Summer 2018 Wrap-Up
                    From March 20 to June 3
Hello everyone! My summer vacation, including Holy Week and  Recognition Day, ran from March 20 up to June 3. I read quite an unusual amount of books during that time period, and by unusual I mean weird for me. I'm a slow reader and a busy blogger and person so I don't usually read much in a short period of time, but this summer I read 14 books. I'll be adding my opinions and rating as well. So without further ado here they are:
A Map For Wrecked Girls
by Jessica Taylor
We sat at the edge of the ocean—my sister Henri and I—inches apart but not touching at all. We'd been so sure someone would find us by now.
Emma had always orbited Henri, her fierce, magnetic queen bee of an older sister, and the two had always been best friends. Until something happened that wrecked them.
I'd trusted Henri more than I'd trusted myself. Wherever she told me to go, I'd follow.
Then the unthinkable occurs—a watery nightmare off the dazzling coast. The girls wash up on shore, stranded. Their only companion is Alex, a troubled boy agonizing over his own secrets. Trapped in this gorgeous hell, Emma and Alex fall together as Emma and Henri fall catastrophically apart.
For the first time, I was afraid we'd die on this shore.
To find their way home, the sisters must find their way back to each other. But there's no map for this—or anything. Can they survive the unearthing of the past and the upheaval of the present?
Rating:   4.5 / 5 stars
Notes:
This is the perfect summer read. Sisters, survival, secrets, and sunburns.
Review: A Map for Wrecked Girls by Jessica Taylor
---
Glass Sword
by Victoria Aveyard
If there's one thing Mare Barrow knows, it's that she's different.
Mare Barrow's blood is red—the color of common folk—but her Silver ability, the power to control lightning, has turned her into a weapon that the royal court tries to control.
The crown calls her an impossibility, a fake, but as she makes her escape from Maven, the prince—the friend—who betrayed her, Mare uncovers something startling: she is not the only one of her kind.
Pursued by Maven, now a vindictive king, Mare sets out to find and recruit other Red-and-Silver fighters to join in the struggle against her oppressors.
But Mare finds herself on a deadly path, at risk of becoming exactly the kind of monster she is trying to defeat.
Will she shatter under the weight of the lives that are the cost of rebellion? Or have treachery and betrayal hardened her forever?
The electrifying next installment in the Red Queen series escalates the struggle between the growing rebel army and the blood-segregated world they've always known—and pits Mare against the darkness that has grown in her soul.
Rating: 4.7 / 5 stars
Notes:
I read Red Queen, the first book, back in late 2017, but I don't think this one has a better plot than that one. I still love this though.
---
---
Harry Potter and the Goblet of Fire
by J.K. Rowling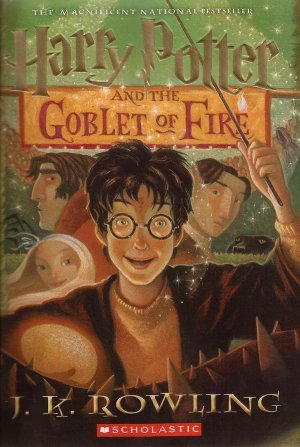 Harry Potter is midway through his training as a wizard and his coming of age. Harry wants to get away from the pernicious Dursleys and go to the International Quidditch Cup. He wants to find out about the mysterious event that's supposed to take place at Hogwarts this year, an event involving two other rival schools of magic, and a competition that hasn't happened for a hundred years. He wants to be a normal, fourteen-year-old wizard. But unfortunately for Harry Potter, he's not normal – even by wizarding standards. And in his case, different can be deadly.
Rating: 5 / 5 stars
Notes:
Harry Potter is timeless. Don't judge, but this is my first time reading and I luvvit.
---
King's Cage
by Victoria Aveyard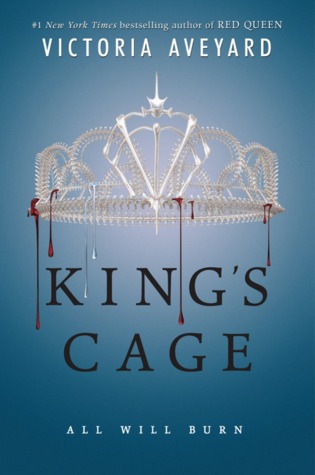 In this breathless third installment to Victoria Aveyard's bestselling Red Queen series, allegiances are tested on every side. And when the Lightning Girl's spark is gone, who will light the way for the rebellion?
Mare Barrow is a prisoner, powerless without her lightning, tormented by her lethal mistakes. She lives at the mercy of a boy she once loved, a boy made of lies and betrayal. Now a king, Maven Calore continues weaving his dead mother's web in an attempt to maintain control over his country—and his prisoner.
As Mare bears the weight of Silent Stone in the palace, her once-ragtag band of newbloods and Reds continue organizing, training, and expanding. They prepare for war, no longer able to linger in the shadows. And Cal, the exiled prince with his own claim on Mare's heart, will stop at nothing to bring her back.
When blood turns on blood, and ability on ability, there may be no one left to put out the fire—leaving Norta as Mare knows it to burn all the way down.
Rating: 4.8 / 5 stars
Notes:
This series is going to kill me. King's Cage was an epic roller coaster ride, and that ending had me shook.
---
Cruel Crown
by Victoria Aveyard
Two women on either side of the Silver and Red divide tell the stories no one else knows.
Discover the truth of Norta's bloody past in these two revealing prequels to #1 NEW YORK TIMES bestseller RED QUEEN.
Queen Song
Queen Coriane, first wife of King Tiberias, keeps a secret diary—how else can she ensure that no one at the palace will use her thoughts against her? Coriane recounts her heady courtship with the crown prince, the birth of a new prince, Cal, and the potentially deadly challenges that lie ahead for her in royal life.
Steel Scars
Captain Farley was raised to be strong, but being tasked with planting the seeds of rebellion in Norta is a tougher job than expected. As she travels the land recruiting black market traders, smugglers, and extremists for her first attempt at an attack on the capital, she stumbles upon a connection that may prove to be the key to the entire operation—Mare Barrow.
Rating: 4 / 5 stars
Notes:
I'm starting to think Victoria Aveyard breaks poor people's hearts for a living. This book gives us more info on Red Queen history.
---
Whichwood
by Tahereh Mafi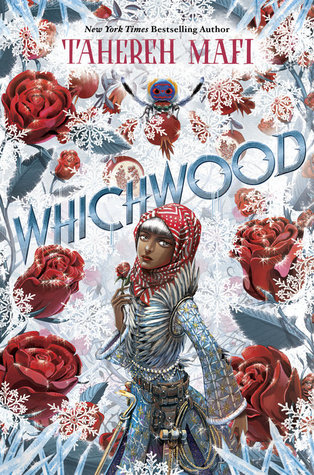 A new adventure about a girl who is fated to wash the bodies of the dead in this companion to Furthermore.
Our story begins on a frosty night…
Laylee can barely remember the happier times before her beloved mother died. Before her father, driven by grief, lost his wits (and his way). Before she was left as the sole remaining mordeshoor in the village of Whichwood, destined to spend her days washing the bodies of the dead and preparing their souls for the afterlife. It's become easy to forget and easier still to ignore the way her hands are stiffening and turning silver, just like her hair, and her own ever-increasing loneliness and fear.
But soon, a pair of familiar strangers appears, and Laylee's world is turned upside down as she rediscovers color, magic, and the healing power of friendship.
Rating: 5 / 5 stars
Notes:
This book is so special. My first Tahereh Mafi book. I really love it. An emotional read for me, the story is so touching.
Review: Whichwood by Tahereh Mafi
---
---
Ruin and Rising
by Leigh Bardugo
The capital has fallen.
The Darkling rules Ravka from his shadow throne.
Now the nation's fate rests with a broken Sun Summoner, a disgraced tracker, and the shattered remnants of a once-great magical army.
Deep in an ancient network of tunnels and caverns, a weakened Alina must submit to the dubious protection of the Apparat and the zealots who worship her as a Saint. Yet her plans lie elsewhere, with the hunt for the elusive firebird and the hope that an outlaw prince still survives.
Alina will have to forge new alliances and put aside old rivalries as she and Mal race to find the last of Morozova's amplifiers. But as she begins to unravel the Darkling's secrets, she reveals a past that will forever alter her understanding of the bond they share and the power she wields. The firebird is the one thing that stands between Ravka and destruction—and claiming it could cost Alina the very future she's fighting for.
Rating: 4.5 / 5 stars
Notes:
This book was very emotional for me as well, and that ending had me shook. Leigh Bardugo ruins hearts and plays with feelings. Ugh, I love this series.
---
The Language of Thorns
by Leigh Bardugo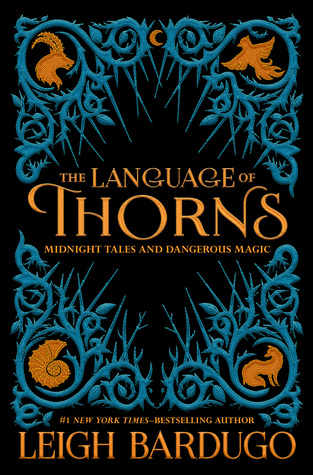 Travel to a world of dark bargains struck by moonlight, of haunted towns and hungry woods, of talking beasts and gingerbread golems, where a young mermaid's voice can summon deadly storms and where a river might do a lovestruck boy's bidding but only for a terrible price.
Inspired by myth, fairy tale, and folklore, #1 New York Times–bestselling author Leigh Bardugo has crafted a deliciously atmospheric collection of short stories filled with betrayals, revenge, sacrifice, and love.
Perfect for new readers and dedicated fans, these tales will transport you to lands both familiar and strange—to a fully realized world of dangerous magic that millions have visited through the novels of the Grishaverse.
This collection of six stories includes three brand-new tales, all of them lavishly illustrated with art that changes with each turn of the page, culminating in six stunning full-spread illustrations as rich in detail as the stories themselves.
Rating: 4.8 / 5 stars
Notes:
Dark fairytales indeed. Who knew this book would contain some of my new favorite bedtime stories?
---
Unwritten
by Tara Gilboy
Twelve-year-old Gracie Freeman is living a normal life, but she is haunted by the fact that she is actually a character from a story, an unpublished fairy tale she's never read. When she was a baby, her parents learned that she was supposed to die in the story, and with the help of a magic book, took her out of the story, and into the outside world, where she could be safe.
But Gracie longs to know what the story says about her. Despite her mother's warnings, Gracie seeks out the story's author, setting in motion a chain of events that draws herself, her mother, and other former storybook characters back into the forgotten tale. Inside the story, Gracie struggles to navigate the blurred boundary between who she really is and the surprising things the author wrote about her. As the story moves toward its deadly climax, Gracie realizes she'll have to face a dark truth and figure out her own fairy tale ending.
Rating: 5 / 5 stars
Notes:
A quick but adventure-filled middle grade read. Couldn't get enough!
Review: Unwritten by Tara Gilboy
---
Follow Me Back
by A.V. Geiger
Tessa Hart's world feels very small. Confined to her bedroom with agoraphobia, her one escape is the online fandom for pop sensation Eric Thorn. When he tweets to his fans, it's like his speaking directly to her…
Eric Thorn is frightened by his obsessive fans. They take their devotion way too far. It doesn't help that his PR team keeps posting to encourage their fantasies.
When a fellow pop star is murdered at the hands of a fan, Eric knows he has to do something to shatter his online image fast—like take down one of his top Twitter followers. But Eric's plan to troll @TessaHeartsEric unexpectedly evolves into an online relationship deeper than either could have imagined. And when the two arrange to meet IRL, what should have made for the world's best episode of Catfish takes a deadly turn…
Told through tweets, direct messages, and police transcripts.
Rating: 5 / 5 stars
Notes:
Very suspenseful! I love this book!
---
Everless
by Sara Holland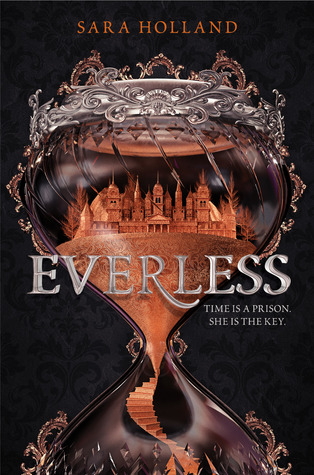 In the kingdom of Sempera, time is currency—extracted from blood, bound to iron, and consumed to add time to one's own lifespan. The rich aristocracy, like the Gerlings, tax the poor to the hilt, extending their own lives by centuries.
No one resents the Gerlings more than Jules Ember. A decade ago, she and her father were servants at Everless, the Gerlings' palatial estate, until a fateful accident forced them to flee in the dead of night. When Jules discovers that her father is dying, she knows that she must return to Everless to earn more time for him before she loses him forever.
But going back to Everless brings more danger—and temptation—than Jules could have ever imagined. Soon she's caught in a tangle of violent secrets and finds her heart torn between two people she thought she'd never see again. Her decisions have the power to change her fate—and the fate of time itself.
Rating: 4.5 / 5 stars
Notes:
Mysterious mansions, puzzling pasts and haunting mythology make up one great fanatsy read.
---
A Court of Mist and Fury
by Sarah J Maas
Feyre survived Amarantha's clutches to return to the Spring Court—but at a steep cost. Though she now has the powers of the High Fae, her heart remains human, and it can't forget the terrible deeds she performed to save Tamlin's people.
Nor has Feyre forgotten her bargain with Rhysand, High Lord of the feared Night Court. As Feyre navigates its dark web of politics, passion, and dazzling power, a greater evil looms—and she might be key to stopping it. But only if she can harness her harrowing gifts, heal her fractured soul, and decide how she wishes to shape her future—and the future of a world cleaved in two.
With more than a million copies sold of her beloved Throne of Glass series, Sarah J. Maas's masterful storytelling brings this second book in her seductive and action-packed series to new heights.
Rating: 4.7 / 5 stars
Notes:
First time reading. Am I the only one who read the ACOTAR series in the wrong order. Oh well, to more Feysand!
---
Tell Me No Lies
by A.V. Geiger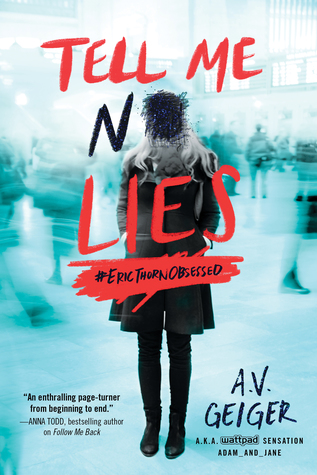 Love. Obsession. Jealousy. Murder.
No one knows what happened to pop icon Eric Thorn. His Twitter account? Frozen. His cell phone? Cracked and bloody, buried in the snow.
Agoraphobic fangirl Tessa Hart knows the truth, but she's finally left her #EricThornObsessed days behind. She has no intention of ever touching her Twitter app again. But Snapchat… That's safer, right?
After months of living under the radar, Tessa emerges from hiding, forced to face the deadly consequences of her past. But in the interrogation room, answers only lead to more questions in the pulse-pounding conclusion to the Follow Me Back duology.
Rating: 5 / 5 stars
Notes:
This duology never fails me. The best thriller books I've ever read!
Blog Tour + Review: Tell Me No Lies by A.V. Geiger
---
806
by Cynthia Weil
Sibling 1 throws blenders and plays guitar. Sibling 2 is allergic to everything and is into magic. Sibling 3 is a varsity swimmer with a group of female fans. Enough said. The only thing they have in common is their biological father, and the only thing they can agree on is that they all want to meet him. With the help of a broken-down, "borrowed" Jeep, KT, Jesse, and Gabe make their way across the country evading police, trying their luck on the slots, and meeting a life-changing pig, all to track down Donor 806, their father. Any hope of success requires smarts, luck, and ingenuity. Good thing they have each other…even if they don't see it that way.
Rating: 4 / 5 stars
Notes:
Love this book, though there were some unbelievable situations despite this being a contemporary read.
---
So that's it for this summer wrap-up, folks. Some of these are ARCs, like Unwritten and 806, so you might have to wait some time if you're interested in reading them, unless if you've received advance copies yourself.
How many books have you read from late March to early June? Please share in the comments below!