You know what's so good about Friday?
Knowing that it's the end of the week and you can finally chill. That you don't have to wake up early tomorrow. Bonus points if you only have a half-day of classes.
But you know what's even better?
Scrolling through bookstagram and discovering that one of your favorite YA fantasy book series is getting its own Netflix series.
That YA fantasy series is the Grisha Trilogy. Grishaverse. Sounds cool, right?
I was shookt when Author Leigh Bardugo shared on her Instagram account the wonderful news. In the span of a few hours, thousands of fans and even fellow bestselling authors have responded to the news with glee.
For some of you who have no idea about Shadow and Bone, you can check it out on Goodreads here.
Surrounded by enemies, the once-great nation of Ravka has been torn in two by the Shadow Fold, a swath of near impenetrable darkness crawling with monsters who feast on human flesh. Now its fate may rest on the shoulders of one lonely refugee.
Alina Starkov has never been good at anything. But when her regiment is attacked on the Fold and her best friend is brutally injured, Alina reveals a dormant power that saves his life—a power that could be the key to setting her war-ravaged country free. Wrenched from everything she knows, Alina is whisked away to the royal court to be trained as a member of the Grisha, the magical elite led by the mysterious Darkling.
Yet nothing in this lavish world is what it seems. With darkness looming and an entire kingdom depending on her untamed power, Alina will have to confront the secrets of the Grisha . . . and the secrets of her heart.
---
I'm so excited to watch this Netflix series. I've been waiting for this moment for a while now and it's finally coming true! The fantastic world of Grishaverse is finally going to be shown to the world, to readers and non-readers alike. I love this series so much.
I finished reading The Shadow and Bone Trilogy earlier this year. I was drawn right from the beginning and the conclusion shred my heart to pieces. Leigh Bardugo has created an amazing fantasy world that will continue to amaze my inner fantasy freak.
I'm so happy for Leigh Bardugo. She's one of the coolest authors out there. She brews up amazing fantasy stories like the queen she is.
In my own opinion, this series is very deserving and no compliment I could give could make justic of what's in the book. I mean:
AMAZING WORLD
Vivid Characters
Darkly handsome villain (I can't help it)
The quotes are EVERYTHING
The writing style is admirable
My mind was pretty much blown away by the time I finished reading this series. I was hooked from the beginning and enjoyed it up to the last word. I do hope that the Netflix series is going to do this series some justice (and please, please DON'T screw up).
Hey, we're not done yet!
Did you know that this series is not only going to be based on The Shadow and Bone Trilogy but ALSO Six of Crows?!
Yep, you read that right!
You can view the IG post here.
Ok, ok, I admit I haven't read Six of Crows yet. But I've read countless comedy tweets/memes and have seen A LOT of gorgeous fan art and I just know that this series is great. I'm hoping to read it sometime this year, actually.
You can check it out on Goodreads here.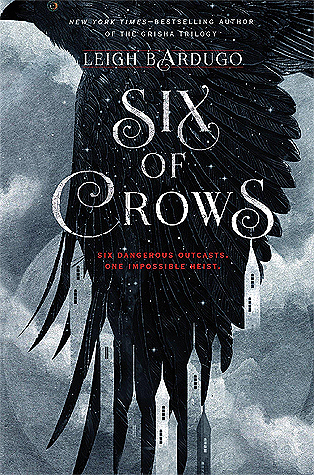 Ketterdam: a bustling hub of international trade where anything can be had for the right price–and no one knows that better than criminal prodigy Kaz Brekker. Kaz is offered a chance at a deadly heist that could make him rich beyond his wildest dreams. But he can't pull it off alone…
A convict with a thirst for revenge.
A sharpshooter who can't walk away from a wager.
A runaway with a privileged past.
A spy known as the Wraith.
A Heartrender using her magic to survive the slums.
A thief with a gift for unlikely escapes.
Six dangerous outcasts. One impossible heist. Kaz's crew is the only thing that might stand between the world and destruction—if they don't kill each other first.
The info
So far, this Netflix series is going to be eight episodes long, from Eric Heisserer (writer of Bird Box) and Shawn Levy (executive producer of Stranger Things). This is going to be an overlap of the original Shadow and Bone Trilogy and he Six of Crows duology. To be honest, I'm very curious about that and I'm so excited to see it for herself.
For more information, you can read the full article here:
— Deadline