THE FAE RADAR is a new feature on The Night Faerie blog  that features categorized books that I've recently discovered.
Hello, lovely readers!
I know some (a lot?) of you are joining #YARC (Year of the Asian Reading Challenge) hosted by these amazing bloggers: Vicky, CW, Shealea, and Lily. This reading challenge aims to boost Asian authors and encourage readers to read more Asian books. Unfortunately, I wouldn't be able to participate in this reading challenge because a) I'm a slow af reader, and 2) I'm trying to finish some eARCs before anything else!
I feel awful not being able to join because I WANT TO. So I decided to come up with this post to help readers who are actually joining, and also in light of the recently celebrated Lunar New Year.
So without further ado, here are some Asian Young Adult 2019 releases that I recently came across!

Shadow Frost by Coco Ma
Something dark is brewing in the kingdom of Axaria. A monstrous beast has been laying waste to the villagers and their homes. Described as a shadow demon summoned from the darkest depths of the Immortal Realm, it is invulnerable. Dozens and dozens of soldiers are sent out to hunt it down … and not one has ever returned.
When Asterin Faelenhart, the Princess of Axaria and heir to the throne, realizes that she may hold the key to the demon's defeat, she vows not to rest until the demon is slayed. With the help of her friends, Asterin sets out to complete a single task-the task that countless trained soldiers have failed. To kill it.
As they hunt for the demon, they unearth a plot to assassinate the princess. Asterin and her friends begin to wonder how much of their lives have been lies, especially when they realize that the center of the web of deceit might very well be themselves. With no one else to turn to, they are forced to ask just how much they are willing to sacrifice to protect the world that they have always known.
---
THAT COVER IS GLORIOUS. I also like the premise of this book. It has the sort of mystifying pull that draws an unsuspecting reader in, especially with that gorgeous cover. Did I mention it has a gorgeous cover?
---


Wicked Fox by Kat Cho
A fresh and addictive fantasy-romance set in modern-day Seoul.
No one in modern-day Seoul believes in the old fables anymore, which makes it the perfect place for Gu Miyoung and her mother to hide in plain sight. Miyoung is a Gumiho, a nine-tailed fox, who must eat the souls of men to survive. She feeds every full moon—eating the souls of men who have committed crimes, but have evaded justice. Her life is upended when she kills a dokkaebi, a murderous goblin, in the forest just to save the life of a human boy. But after Miyoung saves Jihoon's life, the two develop a tenuous friendship that blooms into romance forcing Miyoung to choose between her immortal life and Jihoon's.
---
Come out, K-POP fans! I was never a fan of Korean stuff (calm down I'm not a hater either) but I juat couldn't resist this one! It strikes me as something a bit similar to Empress of All Seasons, which I LOVED!
---


Spin the Dawn by Elizabeth Lim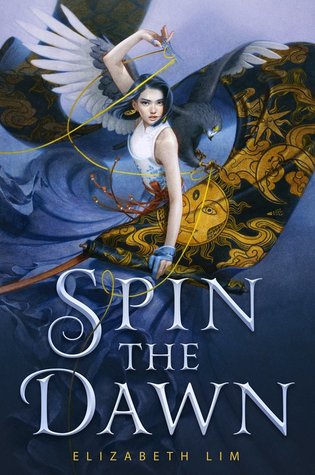 Project Runway meets Mulan in this sweeping YA fantasy about a young girl who poses as a boy to compete for the role of imperial tailor and embarks on an impossible journey to sew three magic dresses, from the sun, the moon, and the stars.
Maia Tamarin dreams of becoming the greatest tailor in the land, but as a girl, the best she can hope for is to marry well. When a royal messenger summons her ailing father, once a tailor of renown, to court, Maia poses as a boy and takes his place. She knows her life is forfeit if her secret is discovered, but she'll take that risk to achieve her dream and save her family from ruin. There's just one catch: Maia is one of twelve tailors vying for the job.
Backstabbing and lies run rampant as the tailors compete in challenges to prove their artistry and skill. Maia's task is further complicated when she draws the attention of the court magician, Edan, whose piercing eyes seem to see straight through her disguise.
And nothing could have prepared her for the final challenge: to sew three magic gowns for the emperor's reluctant bride-to-be, from the laughter of the sun, the tears of the moon, and the blood of stars. With this impossible task before her, she embarks on a journey to the far reaches of the kingdom, seeking the sun, the moon, and the stars, and finding more than she ever could have imagined.
Steeped in Chinese culture, sizzling with forbidden romance, and shimmering with magic, this young adult fantasy is pitch-perfect for fans of Sarah J. Maas or Renée Ahdieh.
---
One of my most anticipated reads for 2019!
---


Patron Saints of Nothing by Randy Ribay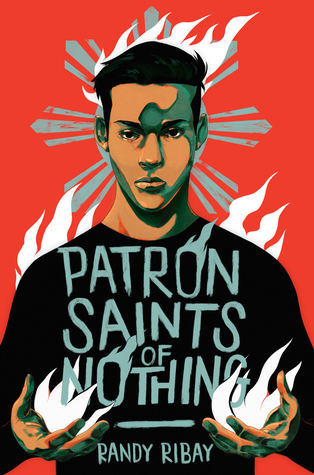 A powerful coming-of-age story about grief, guilt, and the risks a Filipino-American teenager takes to uncover the truth about his cousin's murder.
Jay Reguero plans to spend the last semester of his senior year playing video games before heading to the University of Michigan in the fall. But when he discovers that his Filipino cousin Jun was murdered as part of President Duterte's war on drugs, and no one in the family wants to talk about what happened, Jay travels to the Philippines to find out the real story.
Hoping to uncover more about Jun and the events that led to his death, Jay is forced to reckon with the many sides of his cousin before he can face the whole horrible truth — and the part he played in it.
As gripping as it is lyrical, Patron Saints of Nothing is a page-turning portrayal of the struggle to reconcile faith, family, and immigrant identity.
---
A FILIPINO book??? Omg this is a dream come true! It sounds so good and the cover is giving me nationalism feels!!!
---


Blood Heir by Amélie Wen Zhao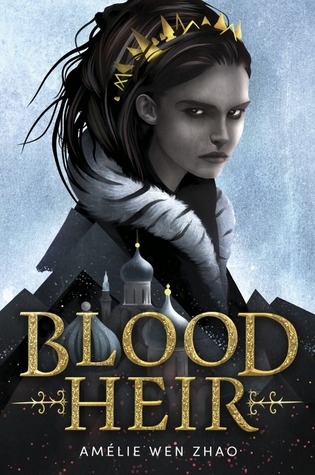 Blood Heir is the first book in a new series about a princess hiding a dark secret and the conman she must trust to clear her name for her father's murder.
In the Cyrilian Empire, Affinites are reviled and enslaved. Their varied abilities to control the world around them are unnatural–dangerous. And Anastacya Mikhailov, the crown princess, might be the most monstrous of them all. Her deadly Affinity to blood is her curse and the reason she has lived her life hidden behind palace walls.
But when Ana's father, the emperor, is murdered, her world is shattered: Ana is the one framed as his killer. To save herself, she must flee the safety of the palace and enter a land that hunts her and her kind. And to clear her name, she must find her father's murderer on her own. Yet, what Ana finds is far worse than she ever imagined. A greater conspiracy is at work in Cyrilia, one that threatens the very balance of her world. And there is only one person corrupt enough to help her get to its rotten core: Ramson Quicktongue.
A cunning crime lord of the Cyrilian underworld, Ramson has sinister plans–though he might have met his match in Ana. Because in this story, the princess might be the most dangerous player of all.
---
People (especially on Twitter) have been raging and raving about this book and I've seen a mix of both negative and positive readers. Honestly, I'm still curious about this book and I'm dying to read it.
---


Stronger Than a Bronze Dragon by Mary Fan
When a powerful viceroy arrives with a fleet of mechanical dragons and stops an attack on Anlei's village, the villagers see him as a godsend. They agree to give him their sacred, enchanted River Pearl in exchange for permanent protection—if he'll marry one of the village girls to solidify the alliance. Anlei is appalled when the viceroy selects her as a bride, but with the fate of her people at stake, she sees no choice but to consent. Anlei's noble plans are sent into a tailspin, however, when a young thief steals the River Pearl for himself.
Knowing the viceroy won't protect her village without the jewel, she takes matters into her own hands. But once she catches the thief, she discovers he needs the pearl just as much as she does. The two embark on an epic quest across the land and into the Courts of Hell, taking Anlei on a journey that reveals more is at stake than she could have ever imagined.
With incredibly vivid world building and fast-paced storytelling, Stronger Than a Bronze Dragon is great for readers who are looking for something fresh in epic fantasy.
---
The premise sounds good, and that cover is gorgeous. Still can't make up my mind about it though.
---

The Weight of Our Sky by Hanna Alkaf
A music-loving teen with OCD does everything she can to find her way back to her mother during the historic race riots in 1969 Kuala Lumpur, Malaysia, in this heart-pounding literary debut.
Melati Ahmad looks like your typical moviegoing, Beatles-obsessed sixteen-year-old. Unlike most other sixteen-year-olds though, Mel also believes that she harbors a djinn inside her, one who threatens her with horrific images of her mother's death unless she adheres to an elaborate ritual of counting and tapping to keep him satisfied.
But there are things that Melati can't protect her mother from. On the evening of May 13th, 1969, racial tensions in her home city of Kuala Lumpur boil over. The Chinese and Malays are at war, and Mel and her mother become separated by a city in flames.
With a 24-hour curfew in place and all lines of communication down, it will take the help of a Chinese boy named Vincent and all of the courage and grit in Melati's arsenal to overcome the violence on the streets, her own prejudices, and her djinn's surging power to make it back to the one person she can't risk losing.
---
Everyone has been talking about this book EVERYWHERE! I've heard great reviews and I'm dying to read TWoOS.
---


And that's it for my first "radar"post! I hope you enjoyed this post and found it informative.
Have you read/heard of any of these books?
Which one in this list sounds the most appealing to you?
Are you the type of reader who loves Asian books (especially YA)?
Do you have an Asian book recommendation that isn't on this list? Do share!