Hello, lovely friends, how are you? My first book review of April will be of a book written by a Filipina author! YAAAAASSSS! Cheers to more Filipino representation!
---
ABOUT THE BOOK
Title: The Bone Witch (The Bone Witch #1)
Author: Rin Chupeco
Genre: Young Adult, Fantasy
Publisher: Sourcebooks Fire
Release Date: March 7, 2017
ISBN: 1492635820 (ISBN13: 9781492635826)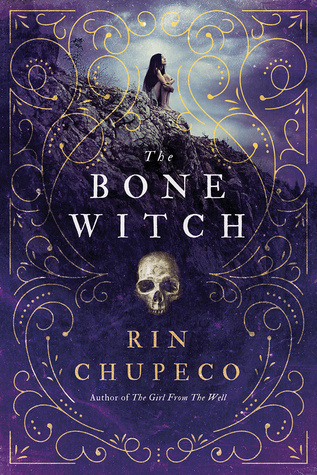 In the captivating start to a new, darkly lyrical fantasy series for readers of Leigh Bardugo and Sabaa Tahir, Tea can raise the dead, but resurrection comes at a price…
Let me be clear: I never intended to raise my brother from his grave, though he may claim otherwise. If there's anything I've learned from him in the years since, it's that the dead hide truths as well as the living.
When Tea accidentally resurrects her brother from the dead, she learns she is different from the other witches in her family. Her gift for necromancy means that she's a bone witch, a title that makes her feared and ostracized by her community. But Tea finds solace and guidance with an older, wiser bone witch, who takes Tea and her brother to another land for training.
In her new home, Tea puts all her energy into becoming an asha-one who can wield elemental magic. But dark forces are approaching quickly, and in the face of danger, Tea will have to overcome her obstacles…and make a powerful choice.
Amazon | B&N | Book Depository | Indigo
---
ABOUT THE AUTHOR
Despite an unsettling resemblance to Japanese revenants, Rin always maintains her sense of hummus. Born and raised in Manila, Philippines, she keeps four pets: a dog, two birds, and a husband. Dances like the neighbors are watching.
She is represented by Rebecca Podos of the Helen Rees Agency. She is also fond of speaking in the third person, and may as well finish this short bio in this manner. While she does not always get to check her Goodreads page, she does answer questions posed to her here as promptly as she is able to.
Website |Goodreads | Instagram | Pinterest | Twitter
---
MY REVIEW
Wow. Wow. I am in awe.
The characters are amazing. I WANNA BE AN ASHA TOO. Polaire is probably my favorite. I used to loathe Zoya but she turned out to be A LOT better as the story goes on and she's one of my faves! I love the asha, they may have their heated quarrels sometimes (especially between the Houses and rival apprentices) but they consider each other a family! Fox is great too! I wish I had an older brother like him. He is the perfect brother for Tea, he's willing to sacrifice himself just to defend her honor and her life, despite her occasional stubbornness.
The plot, of course, is amazing. It started out as a massive bang but was slower down the middle of the book, with occasional events that 'spice things up'. The falling action was an intense sequence of chaotic events that had me on the edge of my seat.
And that ending? Holy cow. It was chaos in words and ink. The last 50 pages were probably the longest 50 pages of my life–ever. During that span, A LOT happened, some things took a turn for the worse, somegavethe book a happy ending, and some–I believe people call them plot twists–caught me completely off-guard. By the time I reached the last page, I just stared blankly at it and was like, "What?". This book left me speechless, utterly, completely speechless. I didn't sob like I usually do when I find a new favorite book. But I can sense a huge hangover coming soon, which can only be satiated by reading the next book in the series, The Heart Forger.
Oh dear. Be a darling and pull me out of this fandom hole I just fell in, would you? I believe I fell down very badly.
To be honest, excited as I am, I'm very nervous (scared, even?) for what happens next, for how this series is going to end. I mean, hello? Who wouldn't be after reading the alternate chapters? I wouldn't really call this book light–it has lots of necromancy and witchcraft, probably more in the coming books. Dear oh dear.
I love this book dearly and I am very much excited to read the rest of the series. I look forward to reading about how Tea's family is doing after a couple of years have passed. I haven't read one word about them from the book when Tea left but I'd love to know how they are faring! Probably a reunion in book 2 or 3?
Fun fact: I pronounced Tea's name as Tea (yes, the drink) until a character proved me wrong around halfway through the book. It's actually pronounced as Tay-uh. I still like the name tea though!
MY RATING
5 / 5 stars shining! | New obsession
---
WE NEED TO TALK.
⁽ᵉᵐᵖʰᵃˢᶦˢ ᵒⁿ ᵗᵉᵃ. ᵖᵘⁿ ᶦⁿᵗᵉⁿᵈᵉᵈ.⁾
Have you read The Bone Witch by Rin Chupeco?
Did you love it, hate, it or somewhere in between?
If you love TBW, what element did you enjoy the most? Was it the plot? The characters?
---
Thank you, thank you for taking the time to read this post! Because I work hard for this little book blog, I'd love it if you could support me by liking, commenting, and sharing this post, OR you can send me an encouraging message.
ATHENA S.