This tour is hosted by Xpresso Book Tours. Thanks for giving me the chance to participate!
---
About the Book
Title: Fake It Till You Break It
Author: Jenn P. Nguyen
Genre: Young Adult, Contemporary Romance
Publishing Date: May 28, 2019
ISBN: 1250308011 (ISBN13: 9781250308016)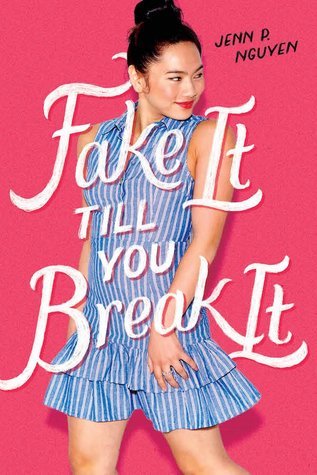 Mia and Jake have known each other their whole lives. They've endured summer vacations, Sunday brunches, even dentist visits together. Their mothers, who are best friends, are convinced that Mia and Jake would be the perfect couple, even though they can't stand to be in the same room together.
After Mia's mom turns away yet another cute boy, Mia and Jake decide they've have had enough. Together, they hatch a plan to get their moms off their backs. Permanently. All they have to do is pretend to date and then stage the worst breakup of all time—and then they'll be free.
The only problem is, maybe Jake and Mia don't hate each other as much as they once thought…
---
About the Author
Jenn P. Nguyen
Jenn Nguyen fell in love with books in third grade and spent the rest of her school years reading through lunchtime and giving up recess to organize the school library. She has a degree in business administration from the University of New Orleans and still lives in the city with her husband. Jenn spends her days reading, dreaming up YA romances, and binge watching Korean dramas all in the name of 'research'. 
---
My Review
This book is so adorable and cute!
When Mia and Jake first started fake-dating, I found is so cringey though. Lol. The nicknames! The sudden escalation (with no supporting facts)! It's like 0-100 real quick. Did they ever seriously think their moms would buy it though? Well, I wouldn't at first glance haha.
But as the book goes on, the story gets better. We get less and less of the cringey stuff and more of the swoon-worthy content we're all looking for. AHHH they're just so adorable as it goes on and I love how they slowly realize their true feelings for each other, while they deal with the other things in their individual lives.
I laughed and giggled at so many parts in this book. There are so many awesome things in this book: friendship, drama, comeback concerts (and brothers?), face masks, and K-dramas, you name it!
All in all, Fake It Till You Break It is a fluffy, entertaining read, it is an adorable YA Contemporary Romance that will have you swooning and giggling and laughing your head off in no time at all!
My Rating
4 / 5 stars
---
THE TOUR SCHEDULE
May 27th
–Books and Blends >> Review
–The Book Dutchesses >> Review
–A British Bookworm's Blog >> Review
–Kitty's Book Spot! >> Review
–Elley the Book Otter >> Review
May 28th
–Blossoms and Bullet Journals >> Excerpt
–JB's Bookworms with Brandy Mulder >> Interview
–Read By Tiffany >> Review
–The Candid Cover >> Review
–Treestand Book Reviews >> Review
May 29th
–The Avid Reader >> Interview
–Book Slaying >> Review
–I'm Into Books >> Guest post
–Magical Reads >> Review
–That Bookish Princess >> Excerpt
–BookwyrmBites >> Review
May 30th
–Here's to Happy Endings >> Review
–A Lovely Book Affair >> Review
–Twirling Book Princess >> Excerpt
–Star-Crossed Book Blog >> Review
–Dani Reviews Things >> Review
May 31st
–Lindsey Reads  >> Review
–Between Printed Pages  >> Excerpt
–The Heart of a Book Blogger >> Guest post
–String of Pages >> Review
–The Night Faerie >> Review
---
Thank you, thank you for taking the time to read this post! Because I work hard for this little book blog, I'd love it if you could support me by liking, commenting, and sharing this post, OR you can send me an encouraging message.
ATHENA S.